Thank You Flexxaire!
September 15, 2017
Parkinson Association of Alberta has been proud to partner with our title sponsor, Flexxaire, on our Flexxaire Parkinson Step 'n Stride™ for the last 4 years.
You may ask, what does being a title sponsor mean?
Well, f
or most companies, it would mean writing a cheque and making sure their logo was on all the marketing materials for the event. But Flexxaire is different. Flexxaire shows they care about Albertans living with Parkinson's every day. They show they care by encouraging their employees to participate in Step 'n Stride and by being one of the top fundraising teams every year. Lastly, Flexxaire shows they care by showing up for Parkinson Association for Alberta when we need their help the most.
We'd like to send out a heartfelt thank you to Flexxaire, for not only being the title sponsor of Step 'n Stride, but for going far beyond what it means to be a Title Sponsor.
L-R: Flexxaire Corporate President Jon McCallum, Flexxaire Business Development Manager, Russ Scruggs and his wife Candace, PAA Board Members Janice Calihoo & Derek Weisbeck & PAA CEO, John Petryshen
This year, our CEO, John Petryshen, had the honor of presenting Flexxaire with a token of appreciation from our Camrose Support Group. About her hand-pieced quilt, Connie Henderson from Camrose said:
"The quilt [] is to be considered as a gift from the Camrose Step 'n Stride Committee as a whole. It was made as a means to give back and to express thanks to Flexxaire for their generous contribution that makes events like Step 'n Stride possible, especially in the smaller communities where hosting an event might not otherwise be viable."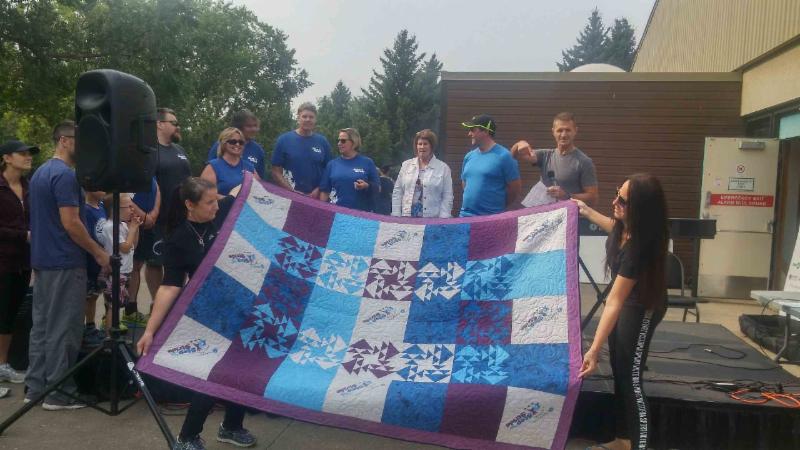 Thank you, Flexxaire for all you do to enhance the lives of Albertans living with Parkinson's.